So much home is in the Aadla
We care about the environment

We love our homeland, the traditions, the nature, the slowness, the honesty, the cordiality, the down-to-earth way of life...
In these globalised, fast-moving times, we feel it is particularly important to preserve and maintain our small, individual structures. Only if we all do our part can we preserve these values and treasures and pass them on to the next generation. That is why the products used at Aadla are particularly close to our hearts.
We could easily and conveniently order everything we need from the wholesaler and not worry about where it comes from and how it was produced. But that wouldn't fit our attitude and values at all. So we want to tell you where all the delicious delicacies and products come from:
Local food
Consciously regional - You are what you eat!
Bread & Pastries:
Bakery Lech
One of the last "real" bakeries, here they bake without additives and chemicals, but with a lot of time and high-quality ingredients according to old tradition. That's why the size of the pastries sometimes varies - it's all handmade.
Mountain cheese:
Daniela Metzler
Our employee Daniela (at Schwarzmanns Ferienwohnungen) manages her alpine pasture in the Bregenzerwald with her family in summer. In addition to the hard work on the alpine pasture, she personally (!) processes the milk of her cows into the finest hard cheese every day. Her cheese has already won several awards. This year we are proud to serve you her mild mountain cheese, which has won a gold award!
Sausage, milk and meat: Wäldermetzge in Warth
A very innovative family business that processes meat from its own livestock or from regional farmers. The farmers' milk is also processed into cheese, yoghurt...here.
You can shop there 365 days a year from 8 a.m. to 6 p.m. or stop in at the snack bar. The boss, Alois (Wise) Feuerstein, is very concerned about preserving and supporting local agriculture in its original form.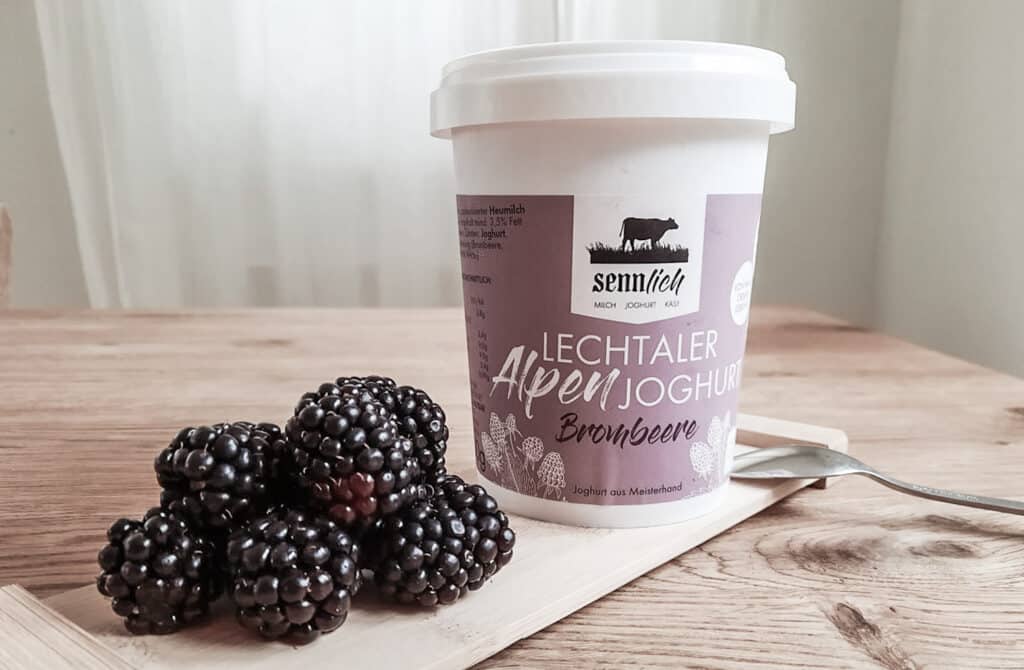 Yoghurt: Hammerle family from Steeg
Hammerles have shown courage and completely converted their farming in 2019. Their own milk is now processed on the farm in the specially built production building. The creamy alpine yoghurt from free-range cows is not only delicious, but particularly rich in bifidobacteria and many probiotic lactic acid bacteria. And of course free of all additives, packed in reusable containers. 
Fruit juices: Artur Egender from Andelsbuch
The smart Bregenzerwälder supplies us with local juices or juices produced in Vorarlberg (orange farming doesn't work so well in our latitudes).
Moreover, our demand to get the juices in returnable glass bottles was no problem at all for Artur. He understands our "environmental tick".
Cheese and yoghurt: Ländle Milch
Regional farmers who do not process their milk themselves deliver to this dairy. This way they get fair prices and short distances.
Sustainability in other areas
It is not only with food that we care about the origin.
"We love what we do and do it with all our heart."