Do something good for yourself
Close to nature
Your chalet holiday in Vorarlberg
Are you looking forward to your holiday? The long-awaited balance to the hectic, demanding everyday life.
Create your dream chalet holiday to your heart's content. Look forward to a wonderful time-out in the midst of fantastic nature!
Finally, peace and time for you and your loved ones.
The Aadla is therefore all about DOING GOOD FOR YOURSELF.
In addition to our activity programme for unforgettable mountain experiences and the physical balance in your private wellness area, we also offer a comprehensive range of absolute relaxation and regeneration. But thrills and feelings of happiness also await you during adventurous experiences.
Nature experiences in winter
Snowshoeing
Experience the magic of winter on silent soles in the midst of untouched nature. We are happy to provide you with the necessary equipment and, on request, we can also organise a guide for a guided snowshoe hike.
Breath Coach & Relaxation
Forget the stress of everyday life and give your body a break: our breathing coach Carmen shows you how to integrate breathing exercises into your everyday life and take a deep breath in between. You will be amazed at what our breathing can do! 
Guided lantern walk
This cosy evening hike takes you through the winter landscape and snowy forests of Warth-Schröcken. As if this wintry atmosphere wasn't beautiful enough, the romantic glow of the lanterns will add to it! 
Nature experiences in summer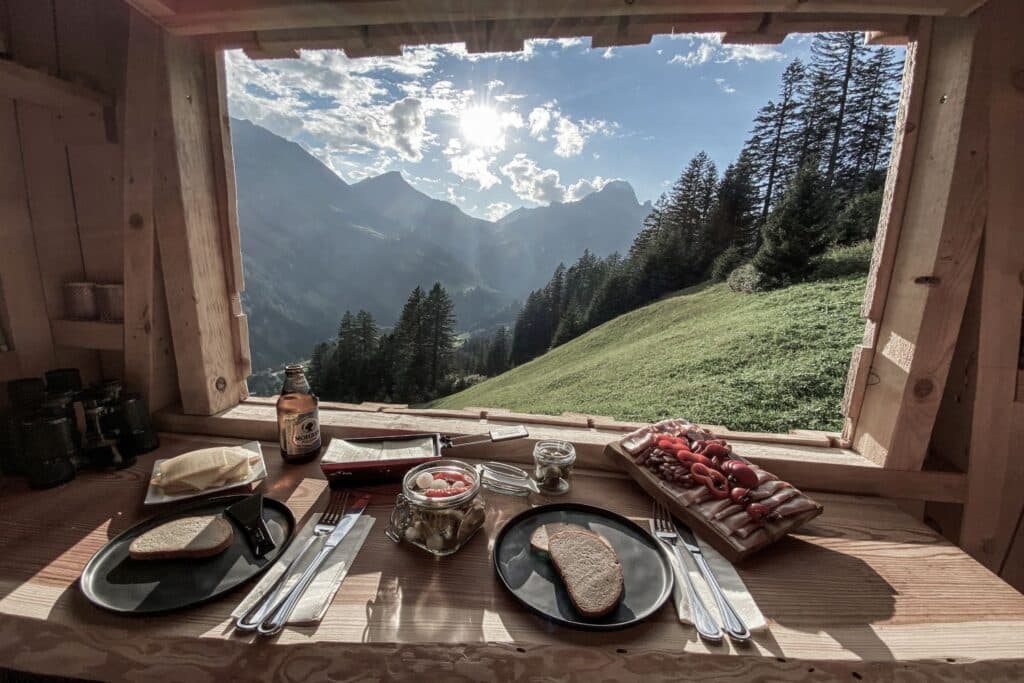 Aadla's private high stand
Observe - come to rest - enjoy!
Our private high stand offers a special kind of nature experience. Comfortably furnished in the high stand, you can listen to the sounds of nature and, with a bit of luck, observe our forest inhabitants. 
Our culinary highlight: Raclette in the high stand!
Mindfulness, Resilience & Happiness
In our fast-paced world, there seems to be no way around stress. Here you will learn what resilience means, what makes people resilient and how you too can strengthen your personal resilience. Fantasy journeys, meditations and practical exercises strengthen your resilience and lead to an easier and happier life.
Herbal hike
The hiking area of Warth-Schröcken is full of natural treasures. On a herb hike you will learn everything you need to know about herbs and relax in the fresh mountain air.
Special Moments
Would you like to use our beautiful nature as a setting for your special celebration or occasion? We would be happy to fulfil your personal wishes for birthdays, wedding anniversaries, honeymoons etc.
Your Aadla Holiday Fairy fulfils all your wishes