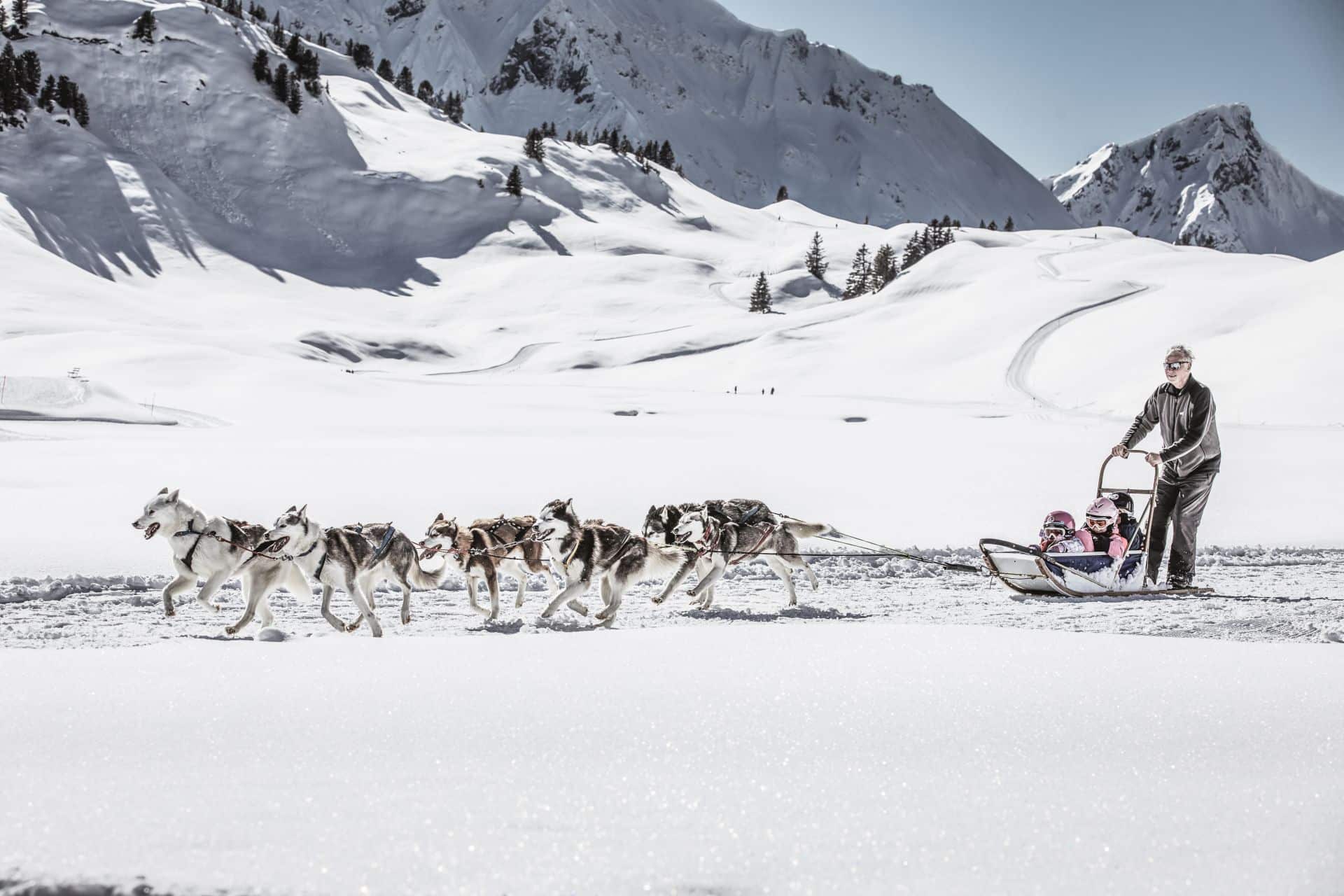 5 winter experiences for very special moments
When the white gold sparkles and glitters, the sun lights up the winter landscape white and the snow crunches under the soles of our feet, we only want one thing: GET OUT! How good that the winter adventures in Warth-Schröcken are almost limitless. The piste racers strap on their skis, the hiking fanatics their snowshoes and the tobogganing fun is provided by our toboggan runs. But are you still looking for a very special winter adventure with your loved ones? Then the holiday fairy has just the thing for you! She reveals 5 activities that provide a very special winter experience!
1st husky sled ride:
Like in a fairy tale, the husky team takes you through the deeply snow-covered nature at the Hochtannberg Pass and the Körbersee - an experience for everyone!
2nd horse-drawn sleigh ride:
Those who prefer something more cosy should snuggle up in the noble carriage and enjoy the surrounding winter landscape from there.
3. tandem paragliding:
Gliding towards the horizon high above the mountains of the Lechtal and Allgäu Alps - this experience provides unique moments at airy heights!
4th Guided lantern walk:
The cosy evening hike takes you through the winter landscape of Warth-Schröcken. As if this wintry atmosphere wasn't beautiful enough, the romantic glow of the lanterns will add to it!
5. ice climbing:
This fascinating sport offers unique insights into the world of ice. Our alpine school will take you to turquoise-blue icefalls that rise up to 300 metres in the gorges!
Sounds good? Then get in touch with your holiday fairy, who will be happy to organise your very special winter experience!
Of course, our holiday fairy has even more insider tips in store: take a look at our packages, where the fairy has already put together individual packages that make your winter holiday an all-round pleasure and entice you with one or two extras. 😊
Pssssst.... Of course, the perfect winter break also requires the right accommodation! After your winter adventure, head for the sauna, the hot tub or cosy up in front of the fireplace - that's it! How good that you can use your private wellness area in your own chalet whenever you want! Whether you're a couple or a large family, our exclusive chalets offer a cosy winter break with many services that make your holiday twice as enjoyable for everyone! 
Take a look at our cosy chalets!
Our chalets offer enough space for families or couples. In the Aadla chalets you always have the whole house to yourselves - with private outdoor sauna, outdoor bathtub and private terrace.
At the centre of each of the seven Aadla Walser chalets is the spacious living and dining area with open fireplace leading onto a covered terrace.
In the smaller 80 m2 chalets you sleep in one large double room with balcony and one comfortable triple room.
The larger 100 m2 chalets comfortably accommodate 6-8 people in two double rooms with balcony or terrace and one room with extra-wide (140m) bunk beds.
Our holiday fairy takes care of all your needs - be it breakfast, cleaning or any other organisation. 
We look forward to pampering you and your loved ones in our exclusive chalets!